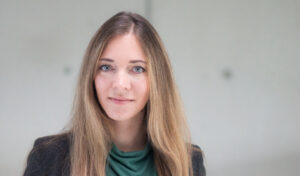 Since 12/2020 Postdoctoral Researcher in  Norface Projekt "The Threats and Potentials of a Changing Political Information Environment"
01/2017 - 12/2019: Postdoctoral Researcher in Horizon 2020 Projekt: "The Role of European Mobility and its Impacts in Narratives, Debates and EU Reforms (REMINDER)"
http://www.reminder-project.eu/
10/2018 - 03/2019: Visiting Professor at the department of journalism and communication research, University Hannover (HMTMH)
02/2016: Dr. phil. in Communication Research
Title of the dissertation: "Media effects despite personal experience? The effect of direct and mediated experience on the evaluation of an event"
04/2010 – 03/2011: Development and management of the CATI telephone studio.
03/2010: Graduation (M.A.). Master thesis: "Good subjects – bad subjects? Student convenience samples in communication science".
04/2007 - 04/2008: Assistant at the Otto Brenner Foundation; responsible for the organization of the Otto Brenner journalism award for critical journalism in 2007.
04/2004 - 03/2010: Master program (communication research, politics, and psychology), University of Mainz.
Research areas:
Migration and media, female migrants
Media effects (e.g., cultivation research)
Media representation of violence against women
Media reception
Quantitative research methods
Awards:
Best Paper Award at the annual conference of Reception and Effects studies of the German Communication association (DGPuK) in Mainz, 2019 (with mit Adrian Meier & Leonard Reinecke)
Paul Lazarsfeld-Scholarship 2010
"Master thesis of the year 2010" granted by the department of communication, University of Mainz
Activities and roles:
09/2013 - 09/2015: spokesperson of the young academics' group NaRezFo (with Anna Schnauber and Julia Niemann)
Reviewer Communication Research, European Political Science Review,

Human Communication Research, International Journal of Communication, International Journal of Public Opinion Research, Mass Communication and Society,

Media Psychology,

Medien und Kommunikationswissenschaft, Politics, Groups, and Identities, Studies in Communication and Media

Member of the organizing team of the 58th annual conference of DGPuK (Mainz; May, 2013)