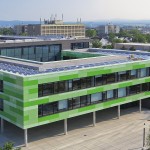 On the 28th of November 2014, the DySCo Research Group will be hosting this year's annual workshop of the "Observation Methods" Working Group. The focus of the workshop will be on working with time-series data (e.g. physiological data, registration of eye movement). The workshop will discuss elementary methodological problems that appear during the collection and analysis of this kind of data. Visitors of the workshop can register online until November 15th. Proposals for active contributions can be submitted until the end of September.
The workshop will be held in German language. You can find more information on our German-language website.
We are looking forward to an exciting event!